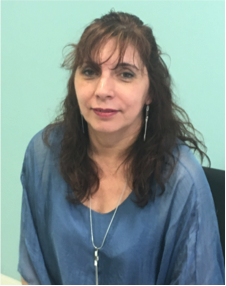 The personal story of the diagnosis and treatment of Juana Acosta has run in parallel with the creation of the first Multiple Sclerosis Unit in Catalonia and anywhere in Spain at Vall d'Hebron University Hospital in 1996, subsequently leading to the founding of Cemcat.
"After having intense headaches and problems with the sight in my left eye, I went to Casualty at Vall d'Hebron and was referred to Dr Xavier Montalban." She was seen by the current Director of Cemcat, who confirmed the diagnosis of Multiple Sclerosis.
"During the more than 20 years that I've been living with the disease, the truth is that I have been through all kinds of phases. I was really excited about becoming a grandmother, but just before my granddaughter was born I started to think I would be unable to look after her, to hold her… And then I bought a baby carrier, and went around with her on my wheelchair. I adapted, and now she is older I can carry her and go and pick her up from school, take her to the park… The wheelchair gave me more independence, which is what I wanted, to be able to go out without depending on anyone".
Juana also explains that her medication has changed several times over the years, and it has managed to halt the outbreaks. She emphasises that she has taken part in various clinical trials conducted at Cemcat because "if no one is willing, then there will be no progress in the treatments". "I hope and believe that the young people being diagnosed today with multiple sclerosis will have better future prospects," she adds.
"Sometimes people say that I deal with my disease really well, but what good would it do me to deal with it badly? Unless you are positive, you end up putting barriers in your own way. I also aim to keep informed about the exercises we do in rehabilitation, understanding what they are for, and applying those that are useful for me in my daily routine".