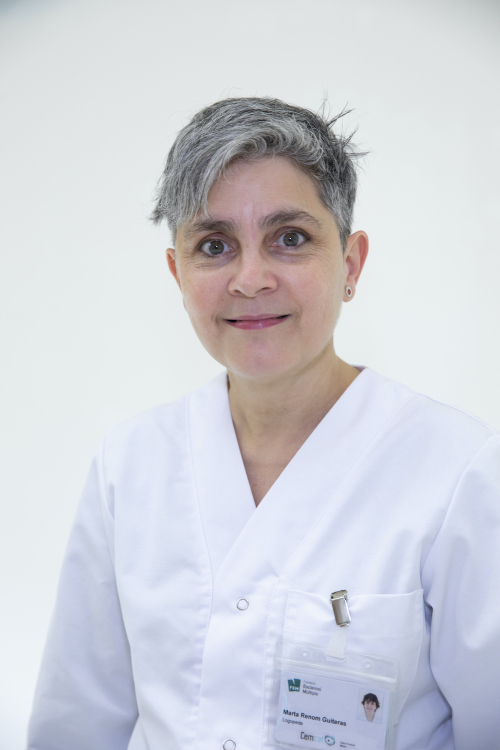 Speech therapist
Membre del SIG (Special Interest Group) Swallowing & Communication del RIMS (Rehabilitation in Multiple Sclerosis)
Logopeda al Servei de Medicina Física i Rehabilitació de l'Hospital de la Santa Creu i Sant Pau
Education
Filologia anglo-germànica (Alemany)
Postgrau en Logopèdia
---
Career
Logopeda de la Fundació Esclerosi Múltiple / Cemcat des de 1996. Logopeda a l'Hospital de la Santa Creu i Sant Pau des de 1995.
Professora adjunta a temps parcial a la Diplomatura de Logopèdia de la Universitat Autònoma de Barcelona durant sis anys. També va impartir l'assignatura "Fonètica Catalana Correctiva" a la llicenciatura d'Art Dramàtic de l'Institut del Teatre de Barcelona durant quatre anys.
Membre actiu del grup de treball "Communication and Swallowing" de la Societat Europea RIMS (Rehabilitation in Multiple Sclerosis). També va ser co-chair durant set anys.
Participació en la creació de diversos materials d'educació sanitària sobre comunicació i deglució a l'esclerosi múltiple dirigida als mateixos afectats, als seus cuidadors i familiars i a professionals. Col·laboració en la creació de material d'estimulació cognitiva per a persones amb esclerosi múltiple. Alguns d'aquests materials es poden trobar a http://observatorioesclerosismultiple.com/.
---
Projects / Lines of Research / Interests
Participació en diversos projectes de recerca sobre rehabilitació cognitiva a l'esclerosi múltiple.
També ha format part de grups de treball internacionals implicats en el desenvolupament i la recerca entorn a la Classificació Internacional del Funcionament de la Discapacitat i de la Salut (CIF) (ICF Research Branch).
Actualment a l'Hospital de Sant Pau de Barcelona està involucrada en la innovació assistencial a través de la telerehabilitació de la disfàgia.
Des del Cemcat, és una de les investigadores i coordinadores d'un projecte multicèntric de validació d'una escala per a la detecció de la disfàgia a l'esclerosi múltiple becat pel RIMS.
Recentment al Cemcat ha participat en la creació i desenvolupament de diverses iniciatives lúdico-terapèutiques com la creació d'una coral de persones afectades d'esclerosi múltiple.
---
Publications
Paul, L Tallner, A, Kos D, Renom M: Using telerehabilitation to support behaviour change. Wayahead 2015; 19(2):13-14
Renom M, Conrad A, Bascuñana H et al: Content validity of the Comprehensive ICF Core Set for multiple sclerosis from the perspective of speech and language therapists. Int J Lang Commun Disord. 2014 Nov;49(6):672-86.
Capítol de Guía Clínica: Recommendations on Rehabilitation: Services for People with Multiple Sclerosis in Europe "Dysfunction of speech and communication" (pàg 43-44). Abril 2012 (European Multiple Sclerosis Platform, EMSP).
Sastre-Garriga J, Arévalo MJ, Renom M, Alonso J, González I, Galán I, Montalban X, Rovira A.: Brain volumetry counterparts of cognitive impaimrent in patients with multiple sclerosis. Journal of Neurological Sciences (2009) 282 (1-2):120-4
Sastre-Garriga J, Alonso J, Renom M, Arévalo MJ, González I, Galán I, et al: Cognitive rehabilitation in multiple sclerosis – a functional magnetic resonance study. Mult Scler 2007;13 (suppl 2):S183.
Zoccoloti, P; Matano, A., Deloche, G; ...; Renom, M; et al. Patterns of attentional impairment following a closed head injury: a collaborative european study". Cortex (2000) 36 (1): 93-107